The Edith Reyboubet jazz bands
The Edith Reyboubet jazz bands host your wedding cocktails, seminars, concerts, festivals, cultural seasons, jazz clubs...
Our different musical styles are swing of the 1930s and 40, Brazilian music (sambas, bossa - novas), Gypsy jazz, gospel and our training, adapting to your needs range from solo piano-voice in the Orchestra to sextet.
Edith Reyboubet, is songwriter performer and Professor of singing at the EMIJ (School of music Jazz Improvisation) in Elbeuf.

Helped by naturally talent, Édith Reyboubet arrived at a result which blew me and moved me. To enter this category of singers is a very good achievement that I acknowledge.  Bravo, Edith, you have not the name of a large...
Jean-Michel Boris, former Artistic Director of the Olympia
J.E.B. Jazz and Brazil, this group of Brazilian music, with the singer Edith Reyboubet interprets the most emblematic Sambas and Bossa Novas of Brazil.
Edith Reyboubet Swing Group, this Orchestra of jazz of Rouen revisits the great Swing standards, with groove and always in a festive atmosphere.
So Glad Gospel, the Gospel of Normandy group with singer Edith Reyboubet subtly rearranges the Gospel classics.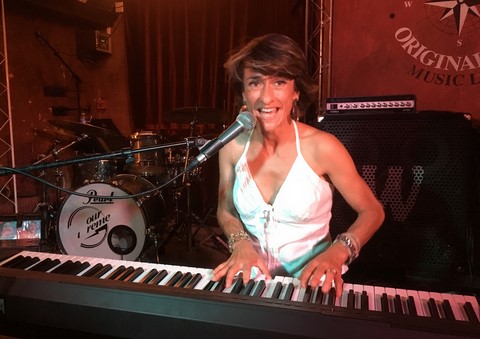 Edith Reyboubet Piano-voice, for a concert of intimate vocal jazz with jazz singer Edith Reyboubet, who is accompanied on the piano.
Edith Reyboubet with René Urtreger
Edith Reyboubet with René Urtreger
J.E.B. Brazilian directory
Piano-voice the Javanaise